In times when governments keep bailing out Banks with huge amounts of money, but are drastically cutting back on Art funding it might be good to take an in-depth look at the value(s) of Art and Money and at the same time look where in this changing financial and cultural landscape opportunities for artists arise or can be created to earn money so they can keep pursuing their Dreams.
Hence the idea for an Art as Money Festival was born; a festive seminar meant to Educate and Inspire and bring together the worlds of Art and Money and maybe adding a bit more Love to that love-hate relationship.
The festival will take place on the 9th of February 2012 in the Trouw in Amsterdam.
Early Bird tickets for only 20 Euros can be obtained HERE
PS Most workshops and talks will be in Dutch........
Interview about the Exchanghibition Bank at the Burning Man festival and the future plans for the project.
After all the performances of the Exchanghibition Bank it is now time to cross the Oceans and move our operations to the Nevada desert and Burning Man!
Unfortunately our Millions and Zeros and Infinites are not accepted by the shipping companies, so we do need those 'real' banknotes as well. We made a new video for our Indiegogo fundraising page to hopefully speed up the process, so we can start concentrating on art again......

Please help to spread it around, so we can kick some ass on our Indiegogo fundraising page:

http://www.indiegogo.com/Exchanghibition-Bank-at-Burning-Man
Thursday the 16th of June Dadara will officially present the first Infinite banknote, with number EB-I-0000001, to Larry Harvey, founder of Burning Man, in the Magna Plaza Shopping Center in Amsterdam.

While a shopping centre might, at first glance, seem a strange place to celebrate non-monetary forms of exchange, for the month of June a collective of artists, brought together by the Eddie the Eagle Museum, have taken over several empty stores in Magna Plaza to create the Eddie the Eagle Shopping Centre. This exciting post-modern shopping experience will allow you to exchange experiences, rather than money.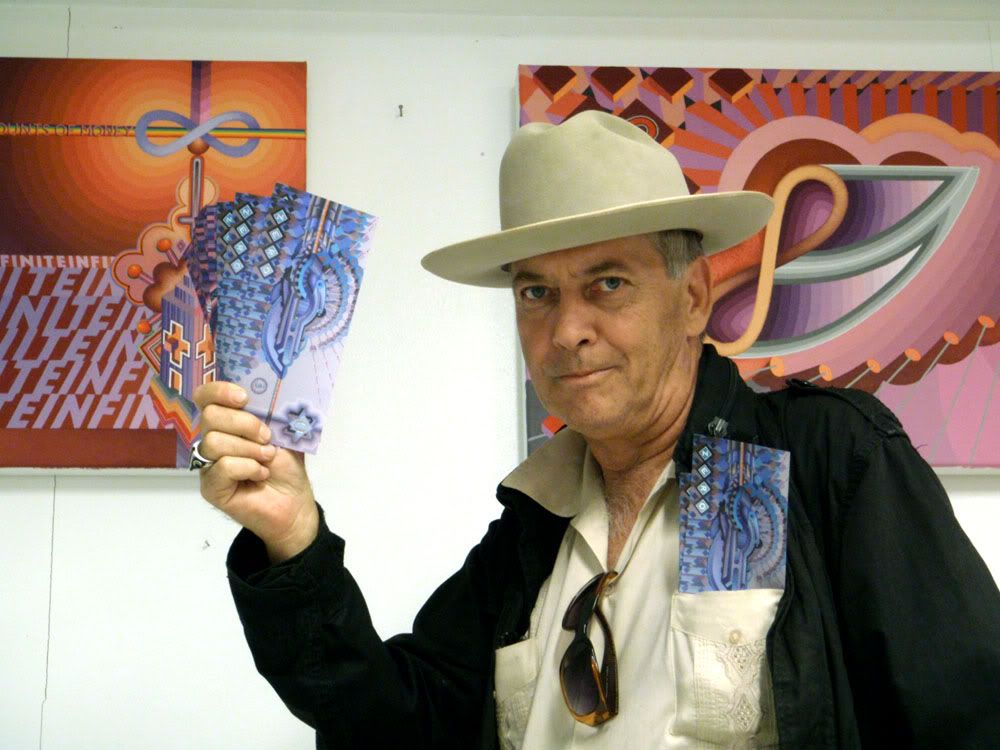 All good things come to an end. On the 6th of May the official closing / finissage of the 'Last Train to the Inevitable Beyond' exhibition will take place. Currently it's still on view at Famous, Keizersgracht 471, Amsterdam, open Wed- Sun from 1 - 6 PM. more info: dadara@famous.nl or phone 06-55122333

That same evening will see a Spiritual Records reunion party in the Melkweg, organized by Pieter Hoovers, former owner of Outland and Spiritual Records, for which Dadara started designing flyers and more than hundred record covers in the beginning of the Nineties.
BLOG